DARTS & ACCESSORIES TO DESIGN YOURSELF
YOU DECIDE WHAT YOUR PRODUCT LOOKS LIKE
THE ADVANTAGES OF MYDARTPFEIL AT A GLANCE
+53.269
DART PLAYERS AROUND THE WORLD TRUST MYDARTPFEIL
YOUR THROWING STYLE. YOUR DESIGN. YOU DECIDE.
The perfect dart in 5 minutes
With the worldwide unique dart configurator, you can easily configure the tip, barrel, shaft and flight step by step and design it yourself. Just try it out!
Design your own now

1 - Configure your dart tips.
First choose your tip type (Steel or Soft), then the length of your tip, the grip of the tip and finally the color of your dart tips. If you are unsure, you will find a small guide and a recommendation for beginners in every step.
2 - Configure your dart barrels.
Now you can configure the dart barrel step by step. To do this, first select the barrel shape, followed by the grip strength and the grip zones. You can then determine the weight of the barrel and the color of the handle. Optionally, you can enter a text for your dart barrel engraving.
3 - Configure your dart shafts.
The configuration of your dart shaft begins with the selection of the material and then you can determine the length of your desired shafts. In the next step you can choose the design pattern of your shafts and then the color of your dart shafts.
4 - Configure your dart flights.
First choose the shape of your dart flight in order to determine the micron strength of your desired flight in the next step. You can then choose the design/pattern and color of your dart flight or create your own completely own dart flight design. In the last step you can match the color of the dart flight protector.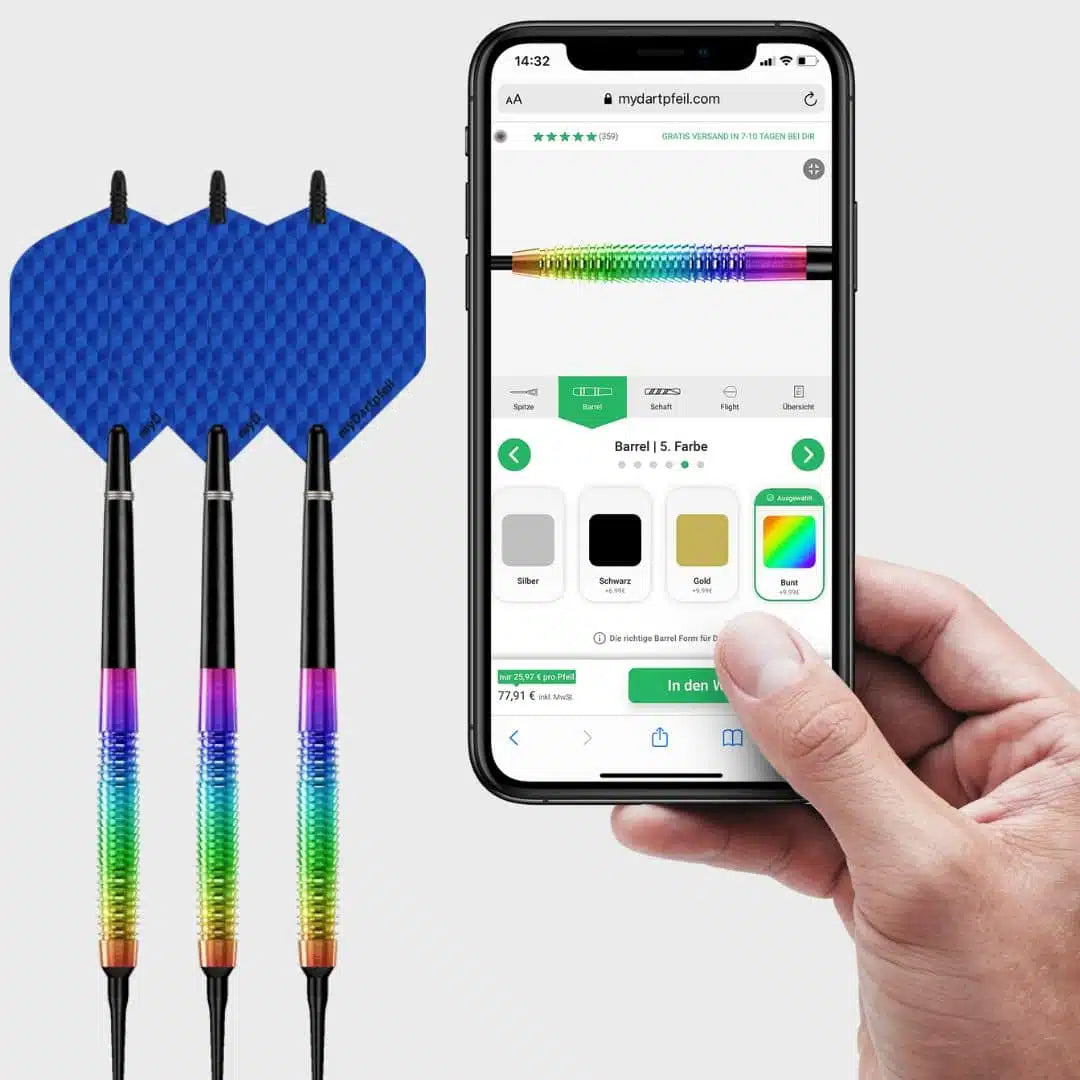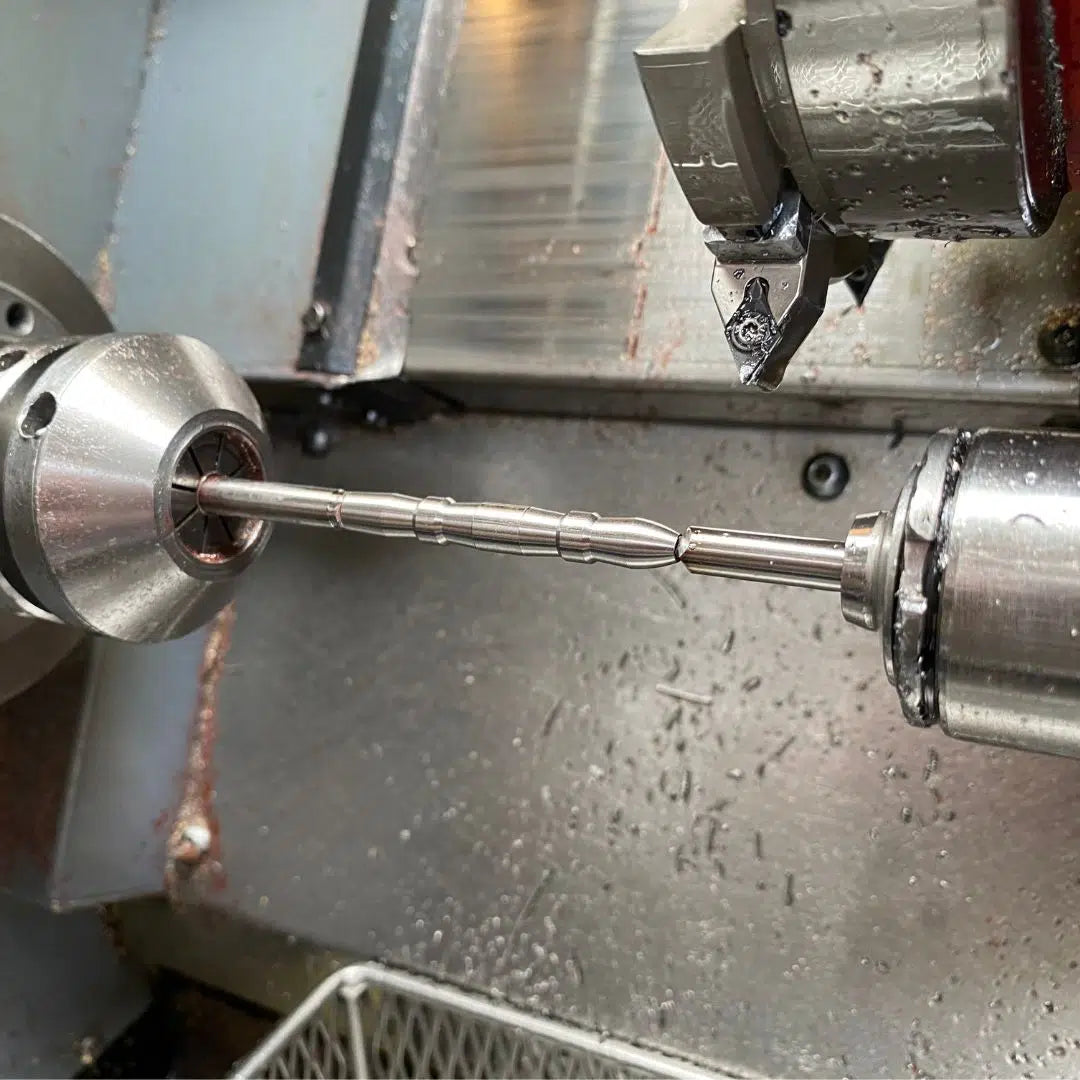 High quality professional quality
Using the most modern high-tech machines, we produce your darts with high precision and speed. We guarantee high-quality professional quality with 90% tungsten barrels and thanks to our fast delivery time, your darts will be with you in just 1-3 days.
Design your own now
Step-by-step configuration
Simply create your perfect dart set step by step in the online dart configurator. Design each component the way you want and choose from different weights, lengths, shapes and more to tailor the dart to your individual needs.
Design your own now
Limitless personalization
Set your trademark with a personal dart barrel engraving and an individual print on your dart flights. Design every component of your darts according to your own ideas - from the tip to the barrel and shaft to the flight.
Design your own now
WE LET OUR CUSTOMERS SPEAK FOR US.
DART ACCESSORIES & ITEMS
EVERYTHING ELSE YOU NEED
Do you have any questions? We're here for you.
Check out the most frequently asked questions from our customers. Do you have any other questions? Then contact our customer support on the Contact & Help page .

Our customer service is available Monday to Friday from 8 a.m. to 5 p.m.
Current response time by email: 24 hours
💳 Which payment methods are available?

We offer you various payment options and an encrypted connection for a transparent and secure purchase: PayPal, credit card (Visa & Mastercard), Klarna purchase on account, Klarna installment payment, Klarna direct debit and instant transfer.
📦 How much does shipping cost in Germany?

All orders within Germany are free of charge for orders over €20. If you are below this, we will charge you €4.95 shipping costs at checkout. Regardless of the order value, you can choose express shipping within Germany for €9.95.
📞 How can I contact myDartpfeil?

You can reach us by phone on 030 92374747 or by email at support@mydartpfeil.com. You will usually receive a response from our friendly customer service on the same day or the next working day at the latest.
🔁 Can I return the goods if I don't like them?

You can return your order within the statutory cancellation period of 14 days. Please contact us with your order number. and within the return period contact our customer service via email (support@mydartpfeil.com). Personalized products are of course excluded from this, as these have been specially adapted for you.
📆 When can I expect my delivery?

Your order is usually ready for dispatch and on its way to you within 24 hours. For personalized products, the processing time can be up to 48 hours depending on the season. With express shipping you will receive your delivery the next day, with standard shipping the goods will usually be with you in 1-3 days.
🏤 Which service provider will my order be delivered with?

By default, your order will be shipped with our partner DHL. Depending on the size and weight of the order, it will be sent by post or parcel. Orders with express shipping are shipped with DHL Express regardless of size.

Our customer service is available Monday to Friday from 8 a.m. to 5 p.m.
Current response time by email: 24 hours