WE BRING DARTS TO EVERY LIVING ROOM!
VISIT TO THE DARTS WORLD CUP: THE DART FEVER HAS INFECTED US
We – the founders Timm and Lukas – have known each other for many years from our school days. In the Frankfurt student shared apartment, we initially played a few rounds of darts in the living room against friends and acquaintances just for fun and excitement, but we quickly developed a love and passion for the sport. In winter 2016 we traveled to the venerable Alexandra Palace to experience the Darts World Cup live. Until now we had only been watching TV from Germany, but our expectations were exceeded and we immediately agreed: Darts has to be made big in Germany too!
THE IDEA OF THE DART CONFIGURATOR: MYDARTPFEIL IS BORN
In April 2017 we are once again looking for new throwing devices for our dartboard. But this time it should be something special - our own, unique darts that we want to put together ourselves on the Internet. Just like we were used to with football boots, cell phone cases and everything else in this world. A few minutes later the bitter disappointment: there is not a single provider for it in the darts sector. The decision is made immediately: "Then we'll just do it ourselves."
THE JOURNEY BEGINS: MYDARTPFEIL IS LIVE
In the summer of 2017, our brains were racing at full speed every day, there were many unanswered questions: Who is developing the online shop including the configurator, where do we get products from and how do we finance all of this with our small student budget? The answer to all questions is almost always the same: Do it yourself according to the motto Learning by Doing. After weeks full of lows and highs, we manage to do what was thought impossible: the launch of our online shop with the world's first dart configurator - and all of this as absolute newcomers to the e-commerce business. Since then, August 6th has been a holy holiday for us!
READY FOR MORE: VISIT MANS WORLD IN HAMBURG
After our successful market entry and the first orders, we were left wanting more. But how can we quickly increase our reach and gain attention? That's right: we're going to our first trade fair. And what trade fair could be better than Mans World in Hamburg? Correct: none. That's why the motto at the beginning of November 2017 is: Kickdown Hamburg Brudi!
WE GROW: OUR FIRST OWN OFFICE & EMPLOYEES
Our first winter business is behind us. At first we had to lick some wounds because for the first time we really experienced what a seasonal business feels like. From spring onwards it was back to full speed ahead: we urgently needed our own office and the first employees. The time has come at the beginning of September. Grand Opening!
TV IS CALLING: OUR FIRST TV APPEARANCE
Now the time has finally come – we are allowed to speak in front of the camera for the first time outside of our own YouTube channel. Excitement & nervousness? Level 1000. Nevertheless, we shine in previously unfamiliar studio terrain. Of course we also have the right gift for RheinMainTV!
MORE CUSTOMIZATION: DART BARREL ENGRAVINGS
Even though we're usually in the mood to joke, this year on April 1st we're really serious: Because we launched our 2nd version of the Dart Configurator today. In addition to a product expansion and a facelift, the program also includes our latest feature: dart barrel engravings. From now on, customers' initials will be scratched into the barrels using our high-tech engraving machine.
MYDARTPFEIL MERCHANDISE: THE LOYAL COMMUNITY WILL BE REWARDED
And once again there is cheering at myDartpfeil. Because today we are launching our first merchandise collection. Our Facebook, Instagram and YouTube community, which now has more than 40,000 followers, is also celebrating this. Our "weekend hackathon" consisting of photo shooting, image editing and product implementation in the online shop was definitely worth it. But for now, toast to it!
THE BIG MOVE: WE'RE BURSTING AT THE SEAMS
We have now spent 1.5 years in our small office on Storkower Straße in Berlin. At the beginning, the warehouse, work area, chill corner and video studio were housed in a single 25 sqm room, but in the last few months we have at least been able to store the warehouse in an extra basement room. But here too it is bursting at the seams and we have to realize: we are outgrowing our office. With a bit of luck in the search and a spontaneous cloak-and-dagger operation, everything happens very quickly: in mid-March we are all sitting in our new holy halls. And are more than happy!
CONFIGURATOR 3.0: THE LONG AWAITED FLIGHT DESIGNER IS STARTING
Did you want a flight designer? – You get a flight designer! After a tough battle with office relocation and Corona lockdown throughout Germany, we are providing really "positive" news. Because we are launching our next big thing – the configurator 3.0 including Flight Designer. If you want to print your pet, the dart club or even a marriage proposal on dart flights, you can easily design this yourself from home. Promised!
WE ARE GROWING EVER FASTER: TOGETHER TOWARDS BIG GOALS
"You can't tie a knot with one hand." – Sounds like a stupid saying, and maybe it is, but somehow there is something to it. After 10 minutes of self-experimentation, I give up. But the message behind it makes it clear: We need more motivated and efficient employees because we are growing faster than ever. The year 2020 will be a complete success with the greatest growth ever and now 14 employees. Do we have to move again soon?
THE MISSION OF MYDARTPFEIL
We want to bring darts into every living room and have a lasting impact on the sport's image. Because darts is more than just a bar sport: darts is drama, party and sport. Great sport!
THE TEAM BEHIND MYDARTPFEIL
Founder & CEO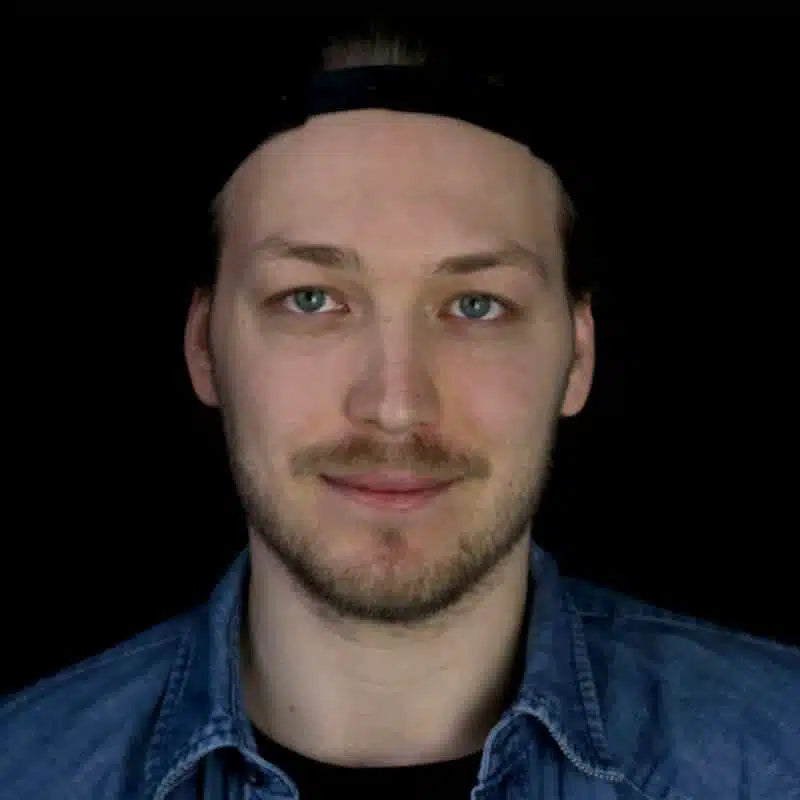 Team 1
Team 2
Team 3
Team 4